An almost continuous band of beach ribbons along the coast of north Norfolk. This is the best destination for soft, golden sand and remote stretches where you can be picnicking alone, even in August.
Mundesley is considered one of Norfolk's finest beaches, long and sandy with safe swimming at low tide and all the amenities and charm of a popular seaside resort. The beach is backed by a promenade lined with colourful beach huts.
Wells-next-the-Sea is a jolly, bucket-and-spade beach, a mile from the lively town, with a lifeboat house at its eastern edge and sand which merges into the beach at Holkham. Characterised by its collection of brightly coloured beach-huts, backed by pine woods, it has low dunes and a beach café. At high tide it's perfect for paddling, and when the water is at its lowest you can swim in the creek.
Holkham is a horseshoe-shaped, pale sand beach sheltered by pine forest, popular with horse-riders and perfect for kite-flying. When the tide is out, it's a long walk to the sea, so not the best choice if you have small children and lots of gear to carry. However the vast stretch of sand means you can always find a quiet stretch of beach all to yourselves that's peaceful and away from any crowds. Famous for featuring in the film 'Shakespeare in Love'.
Overstrand is located to the south east of the town of Cromer. The beach is wide and sandy during low tide, perfect for building sandcastles, but at high tide the water comes all the way back to the sea wall so check tide tables before visiting. The beach here is a lot quieter than nearby Cromer and is a popular for range of activities such as swimming and surfing. Overstrand beach is located along the Norfolk Coast Path and is an ideal place to begin a coastal walk. Indeed a lovely circular walk with the dogs or children is along the beach to Cromer stopping at Rocket House Cafe and then return along the cliff tops. In the village of Overstrand there are cafes, a pub and a village shop. During the 19th century, the church had to be moved back from the sea front to protect it from coastal erosion, although its tower was left at the original cliff-top site.
Cley is not a place for spades or picnics. Instead, it's a long stretch of smooth stones and shingle, backed by a marshland that's rich in birdlife, accessed by a short walk or drive from the village with its distinctive windmill. There's our favourite Artemis cafe sitting over the marshes, the fabulous Pinkfoot Gallery, Cley pottery and a deli for picnics and the dog friendly George pub.
Like its neighbour Sheringham, Cromer is a blue-flag beach. Well-managed, long and sandy, this large resort has a traditional pier, zoning for watersports, and lifeguards on patrol during summer. Crab boats unload their catches onto the sand and there are plenty of cafés and ice-cream places within easy reach.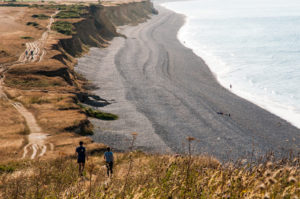 Scolt Head is one of the most inaccessible and beautiful stretches of sand in the district. Catch a ferry from Burnham Overy Staithe, which operates a couple of hours either side of high tide. Alternatively, stay on the east side of the creek and walk a mile or so along the raised sea-wall from the quayside to reach high dunes, marram grass and vast sands.
Brancaster has strong tides but the sand is perfect for picnics and sandcastle-building – and the water recedes to leave shallow lagoons where young children can safely paddle and play. At low tide you can also see the 1940s shipwreck of the SS Vina half submerged in the san
d. Rich in wildlife, you can spot avocets, oyster catchers, terns and seals which often loll on the shore and a links golf course lies in the dunes, backing the sand.
Sea Palling is a blue-flag stretch of yellow sand backed by dunes and with occasional outcrops of large grey boulders and fine shingle. There is a series of manmade reefs lying just off shore. This sea defence scheme, built in the mid-1990s by the Environment Agency, was designed to protect the area from flooding and helps calm the water making it good for swimming (the area is zoned in summer) but also attracting jet skiers, canoeists and windsurfers.
Waxham is located just south of Sea Palling, Waxham is a continuation of beautiful yellow sand but quieter than its neighbour, with seals often seen basking on the shore. Behind the marram grass-topped dunes is a small village with historic 16th-century barn (now restored and open to the public with a café serving light lunches). There are few facilities – it's a place to bring a picnic for a day on the beach or for a bracing walk.
Horsey Beach– with a wild, barren, wonderful feel to it it is a great beach with the added attraction of being a fab place to come and watch seals during the winter months. There are no facilities here but just down the road from the car park is Poppylands Cafe.