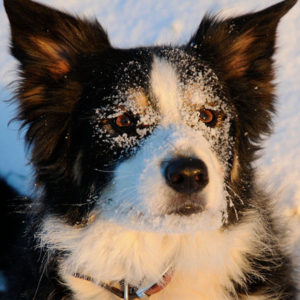 We welcome dogs of all sizes and very happily take 2 – or more after discussion.
The barn is eminently suitable as the flagstone floor has underfloor heating which dogs love. It is also vast so there is room for everyone without stumbling over each other! We provide plenty of dog towels, bucket and shampoo and an outdoor hose as needed. We also have a doggy spa with a warm shower!
We are happy to provide a large dog crate on request and may be available to dog sit as we do not want dogs to be left unattended at any time in the barn. Just ask if you have any issues you need help with.
We would ask that dogs are not allowed on any furniture- own throws acceptable- nor upstairs.
We have a border collie Dash who is rarely without his ball and has an addiction to children! We also have Rapha and Marmot tabby cats and Madrilena our horse, all very friendly and dog proof,  so we would ask that dogs are kept under control at all times.
You can walk straight from Hoste Barn for a quick circular walk or for miles along the Weavers Way. Local NT Blickling and Felbrigg Halls, Bacton Woods and beaches galore are all within a 20 minute drive to name but a few.
Our favourite local dog friendly pubs are Buckinghamshire Arms @ Blickling, and Gunton Arms @ Thorpe Market.
We have an excellent relationship with all the vets locally – one just 2 miles away.