It is probably fair to say that, until the past decade or so, Norfolk has been seen as having little to boast about when it comes to food. 30 years ago even proper coffee was a rarity and strip lighting in pubs the norm! Norfolk now has some of the best fruit, game, meats, veggies, preserves, honey, pork pies, sausages, crabs, lobsters and cakes in the land and rapidly catching up in previously neglected areas such as wine, bread and fine dining establishments. Norfolk has unique restaurants that celebrate and support the local food and drink economy and is consistently rated as Foodie Heaven by The Good food Guide.
Here are a few very local pubs but the list could be endless and we are happy to give advice when you come for anywhere! All these local pubs cook using local ingredients and seasonal produce.
Gastropubs within 20 minutes
The Gunton Arms is a traditional pub set in an extensive historic deer park 12 minutes away. Venison from the deer park and beef from the local herd at Blickling are cooked over a large open fire in the Elk Room. In summer there are huge outdoor tables overlooking the beautiful park. Interior is adorned with original art works by artists such as Tracy Emins, David Bailey and Damien Hirst.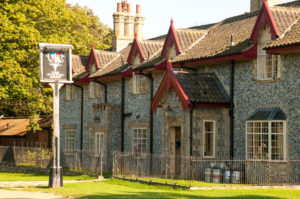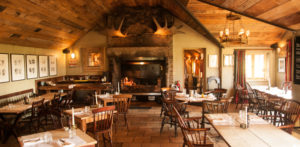 The Bucks is a traditional 17th century pub and former coaching inn opposite NT Blickling Hall serving with many real ales (at least 2 guest ales-Cask Marque recognised) and great food. Again they use local suppliers chicken and duck come from Mortons of Skeyton just 2 miles away from here, fish is supplied fresh by Coles of Lowestoft. The portions are wonderful and enormous.
The Walpole Arms dating back to the 18th century sits within the heart of north Norfolk's picturesque countryside in the village of Itteringham serving modern British Cuisine. The pub has been sympathetically renovated, maintaining its charm of a country pub delivering a relaxed atmosphere and features in the Good Food Guide . It now specialises in Spanish Tapas.
Traditional pubs and restaurants within 15 minutes
The Crown @ Banningham is a traditional 17th century timbered inn with a traditional country pub atmosphere with the emphasis on good quality food, friendly staff and excellent customer service. Log fires and wood burners warm the pub during the Winter months and the gardens provide a great place for dining al fresco during the Summer. Food is served 7 days per week at lunchtimes and evenings and is produced in house by Chefs using seasonal and local produce.
The Goat Inn ,7 minutes, away a rural, thatched 16th century Coaching Inn with original beamed ceilings with log burners for those extra chilly nights in winter. All homemade food, cooked to order. The extensive menu is from traditional meals, a la carte, lunchtime snacks and children's meals. It lies in 7 acres with a large lawned garden and a children's play area.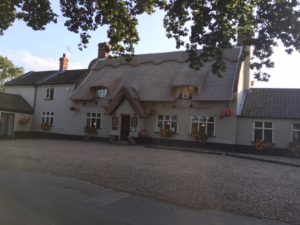 The Rising Sun is a traditional riverside pub 11 mins away. Adjacent to Coltishall Common it is a popular destination for local people and holiday makers looking for good food and a relaxing drink overlooking the delightful River Bure. Choose from traditional hearty pub food and fresh fish dishes through to freshly prepared ciabattas and a selection of vegetarian options. Local real ales such as Adnams and Woodfordes are served in the bar as well as a selection of fine wines.
The Recruiting Sergeant Pub in Horstead, near Coltishall is 12 mins away. The award-winning food is prepared from quality produce, sourced locally whenever possible. Classic British pub food and on Sundays traditional roast lunches are a popular choice. Children are encouraged to have half-portions.
The Norfolk Mead is a hotel and 2AA rosettes restaurant set in wonderful grounds next to the river in Coltishall. Indeed I believe you can hire a boat from the hotel. Afternoon teas are recommended.
Tearooms
Heydon Village Tearoom Enjoy the full experience of a traditional afternoon tea in this quintessential tea room, where everything is homemade and hand decorated with love and pride on the premises using quality and locally sourced ingredients. It was the Best Afternoon Tea Award winner at theregional Norfolk Food and Drinks Award 2017. Heydon village itself is a thriving rural community forming part of the Heydon Conservation Area and is widely known for its unspoiled beauty making it a popular location for filming and a delightful discovery for visitors.
Biddys Tearoom Aylsham, an independant vintage-inspired tearoom specialising in traditional Afternoon Teas on tiered stands with the emphasis on homemade cakes, scones and sandwiches all served in a quirky atmosphere. They stock over 50 blends of loose tea (but only the one coffee!)  and encourage visitors to try them or even 'create your own'. There is a house-dog friendly area as well as a courtyard.
Smallsticks Cafe, Happisburgh is perfectly positioned on farmland a short stroll to Cart Gap beach. Family run with home-cooked food with an enclosed garden where children can play safely and dog friendly.
North Sea Coffee, Cromer sea front is the perfect place to enjoy barista coffee while sitting on the sea front looking out onto Crmer per and the North sea waves.
Travelling back a thousand years, Norfolk was famous primarily for seafood – crabs, lobsters, mussels, whitebait and herrings. The herrings were so sought after they were accepted in lieu of taxes. Morston Mussels are moved to lays (beds) in the tidal creeks and left to mature before harvesting. Norfolk Cockles, known as Stewkey Blues on account of their colour, a pale lavender to dark grey-blue, are still harvested with short-handled, broad rakes and nets. Cromer Crab is distinctively Norfolk thriving in the shallow waters of the unique chalk reef just off the coast, producing the sweetest, meatiest crustaceans. Samphire, 'sea asparagus', thrives in our tidal salt marshes, and is fabulous steamed and eaten with butter. If you're here in Spring, the asparagus is stunning too and you can buy it from the tiny farm next door. Wonderful local cheeses come from Mrs Temple of Copys Green Farm at Wighton from the Chalk Farm herd of Holstein Friesians and Swiss Browns. From Binham Blue, a soft blue veined  to her Copys Cloud, with a fluffy white rind and melting centre or Wighton, a fresh curd cheese to name but a few. In Spring fields swathed in yellow, much of it being rape, grown for oil, but will also be mustard. Norfolk is the home of Colman's Mustard. In the early 19th Century, Jeremiah Colman turned milling mustard into an industry. A former flour miller, he blended both brown and white mustard seed to create a strong English mustard. By the 1880s more than two thousand people were working at the Norwich factory, with another 4,000 earning their living directly through the company. The Norfolk Black turkey which came over from South America in the 1500s and was saved from extinction in the 1950s. It is generally considered the oldest turkey breed in the UK and is a heritage breed. In Tudor times Norwich was famous for apples and was described as 'a city in an orchard or an orchard in a city'. Some types have been lost for good but every now and again an ancient strain is found in an overgrown field somewhere. Indeed in Old Manor Farmhouse Orchard we found a Doctor Harvey- an old English cooking apple dating back to 1629 which is near the origin of Old Manor Farmhouse. Norfolk produces the best malting barley in the country and the best is grown in north Norfolk where the salty sea frets, high fields and warm climate make ideal growing conditions. The barley is turned into award winning real ales. Norfolk has the most microbreweries of any county in the country. Since the 17th century gin was popular in Norfolk had risen so much that a 'Gin Act' was introduced in 1736 making it prohibitively expensive and led to gins decline. Bullards is synonymous with Norwich's brewing history but it's been 150 years since gin was distilled. Their Norwich Dry Gin has resurrected the history and taken the gin world by storm – it was recently named 'Best London Dry Gin in the World' at the World Gin Awards. There are so many more artisan breweries in the county. At the seaside it would be churlish not to  have fish and chips! Even Michelin starred chef Galton Blackiston has opened a Chippy at No1 Cromer.