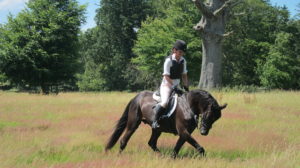 "The first place that I can well remember was a large pleasant meadow with a pond of clear water in it." is how Black Beauty starts, written by local Norfolk author Anna Sewell in 1877, who said that her purpose was 'to induce kindness, sympathy and an understanding treatment of horses'. 140 years on and she would be pleased to see so many horses and ponies happily grazing on meadows in our lovely countryside. She is buried the quaker graveyard in Lamas just a few miles away.
Norfolk is truly a county of horse lovers, with a wide range of activities available to all ages whether on foot or 'on-board'.
For anyone thinking about trying their hand at riding then the Assoiation of British Riding Schools has listed 2 centres right next to us as approved. Experienced horses and ponies are suitable for all abilities and riders to enjoy such activities as lessons in small groups, hacks out around quiet lanes and own-a-pony days.
Squirrel Wood Equestrian Centre, Worstead
Lakeside Riding Centre, Mill Lane, Tunstead
Redwings Horse Sanctuary in Aylsham is the perfect way to get up close but not on horses with over 50 resident horses, ponies and donkeys.