Strolling through the pretty City of Norwich with twisted timber buildings, boutique shops, quirky cafes and vibrant markets makes a good wet-day option or for a weekend break. Norwich is England's best preserved medieval city. The city skyline is highlighted by two cathedrals, a Norman castle, medieval churches, the grandeur of Victorian architecture, an Art Deco City Hall and a 21st century landmark, The Forum.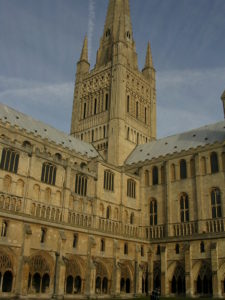 Foodies are treated with innovative coffee shops to Michelin-starred restaurants.
Wander in streets lined with lovely boutiques – house-y shops, clothes, cards, the works. For big brands try Chapelfield shopping centre and for independent shops go to Norwich Lanes.
There's a wealth of culture, from the Sainsbury's centre for Visual Arts (Picasso, Degas etc) to the Norman castle dating from William the Conqueror's reign, beautiful Anglican Norwich Cathedral and Close with its large monastic cloister and medieval roof bosses, dating from 1096, historic Dragon's Hall, Brideswell Museum and 32 medieval churches.
Take a walk in the Plantation gardens, established over 100 years ago, with a Gothic fountain, medieval walls and a verdant Victorian-style greenhouse.
Come in May for the excellent Norfolk & Norwich Arts Festival.